Odournet laboratory: ozone monitoring of room with Airsteril

Ozone monitoring of room containing AirSteril unit under controlled ventilation conditions
Client:
AirSteril
Airscience Technology International Limited
ROXTON MK44 3ET
Report number: IRST1 5A_10
Project code: IRST15A
Date: 29 October 2015 (October 2015)
Title: Ozone monitoring of room containing AirSteril unit under controlled ventilation conditions
Report number: IRST15A_10
Project code: IRST15A
Client: AirSteril
Airscience Technology International Limited ROXTON MK44 3ET
01234871875 phone
enquiries@airsteril
Contact: B Dewsbury
Contractor:Odournet UK Ltd
5, St. Margaret's Street
Bradford on Avon
Wiltshire BA15 IDA
01225 868869 phone
01225 865969 fax
Companies House Cardiff 2900894 uk@odournet.com
Authors:Andrew Meacham
Approved:on behalf of Odournet UK Ltd by
Louise Warren, Senior Consultant
Date: 29 October 2015
copyright: ©2015, Odournet UK Ltd
Copyright and Non-Disclosure Notice
The contents and layout ofthis report are subject to copyright owned by Odoumet UK Ltd (©Odoumet UK Limited 2015) save to the extent that copyright has been legally assigned by us to another party or is used by Odoumet UK Ltd under licence. To the extent that we own the copyright in this report, it may not be copied or used without our prior written agreement for any purpose other than the purpose indicated in this report.
The methodology (if any) contained in this report is provided to you in confidence and must not be disclosed or copied to third parties without the prior written agreement of Odoumet UK Ltd. Disclosure ,o,f that information may constitute an actionable breach of confidence or may otherwise prejudice our commercial interests.
The consultancy advice and opinions expressed within this report are outside the scope of Odournet UK Ltd's UKAS accreditatio n.Any analysis undertaken by a third party laboratory is outside the scope of Odoumet UK Ltd's UKAS accreditation, and unless specifically stated, the third party laboratory does not hold UKAS accreditation
Table of Contents
1. Introduction and scope
   1.1 Introduction
   1.2 Structure of report
2 Description of approach
3 Results of study
Annex A
Test set-up
1 Introduction and scope
1.1 Introduction
AirSteril manufacture air filtration systems designed to reduce odour and bioaerosol levels within washroom environments. The systems generate ozone and AirSteril have been requested to demonstrate that the ozone levels generated do not exceed relevant environmental impact limits in a simulated typical use room. Odournet were commissioned to undertake this study.
The measurements were undertaken on the following dates.

The specific objectives of the study were as follows:
To monitor ozone levels within a room of approximately 10 m' floorspace under three specified room ventilation conditions (3x, 6x and 12X room volume air exchange per hour).
To compare the monitored ozone levels against published exposure limits.
1.2 Structure of report
The report is structured as follows:
Section 2 describes the methodology undertaken to conduct the assessment.
Section 3 presents the results of the monitoring.
Supporting information is provided in the Annex.
2 Description of approach
The following methodology was applied during the study:
   – AirSteril's filtration system was installed at a height of 1.88 m in line
with manufacturer guidelines in a test room with a floor space of
approximately 10 m2
   – The room ventilation rate was be set to a defined level using a variable airflow extraction system.
   – The filtration system was activated under normal operational settings. During operation ozone levels were monitored from two locations within the room using Honeywell GasAlert Extreme measurement devices with the following specifications:
Measurement range 0 to 1 ppm.

Minimum resolution 0.01 ppm.

Lower limit of detection 0.03 ppm.
   – Ozone monitors were located as follows:
2 monitors were installed adjacent to the air filtration product at different heights but at the same floor location ('nose level' (1.5 m) and ground level). The location of ozone
monitors relative to the filtration system is shown in Annex A.
   – The test was repeated under three room air exchange test conditions:
3 x room volume air exchange per hour.
6 x room volume air exchange per hour.
12 x room volume air exchange per hour.
   – The instruments logged every 5 seconds over a 24 hour period, from which 15 minute and 8 hour average concentrations were calculated.
3 Results of study
The peak and average 15 minute and 8 hour average ozone concentrations are presented in Table 2 below. Table 2 summarises published UK ozone exposure criteria.
Review of the data in Table 1 and Table 2 shows that the measured ozone concentrations were lower than both the UK workplace and UK National Air Quality Objective criteria.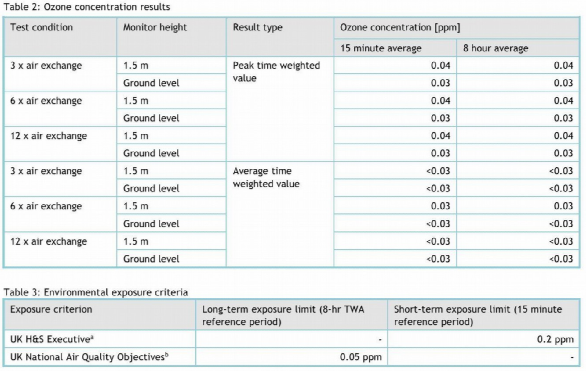 ————————————–
a EH40/2005 Workplace exposure limits: Containing the list of workplace exposure limits for use with the Control of Substances Hazardous to Health Regulations (as amended) Environmental Hygiene Guidance Note EH40 (Second edition).  ' The Air Quality Strategy for England, Scotland, Wales and Northern Ireland, Volume 1, July 2007.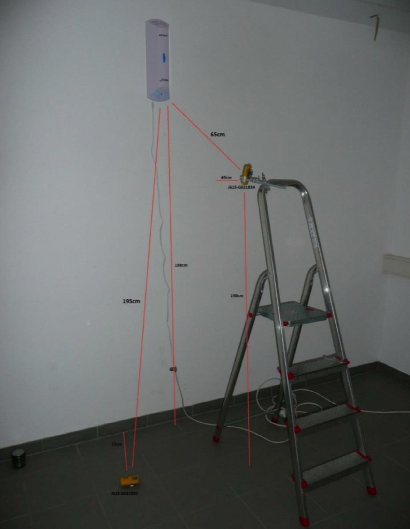 Figure 1: Location of ozone monitors relative to the filtration system